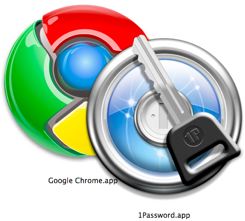 It seems that our major gripe with Google Chrome has been its lack of support for 1Password support but our prayers have been answered! Although it's far from sexy, a rough extension gives you the ability to unlock 1Password!

Here's how to install the 1Password Chrome extension:
Make sure you have the latest 1Password 3 installed. To keep up with the latest Beta version, enable Betas in the 1Password > Preferences > Updates window.
Pick your Chrome: you can either install the latest Chrome Beta (it now supports extensions), install the developer build of Chrome, or install the latest Chromium.
Enter this URL into Chrome's address bar: http://aws.cachefly.net/aws/chrome/O…rome-0.7.1.crx
On the error page choose Window > Extensions, click the Developer mode link, and then click "Update extensions now" button to make sure you have the latest version.
Download the Extension here by accepting it at the bottom of your screen and clicking the "Install" button.
Voila! 1Password will now be compatible with your Chrome browser!
Polishing and more features will come in future updates for 1Password support. Auto-submit is not yet implemented unfortunately ⎯ a tiny fault that may potentially pester you. Chrome's customizable browser, address bar direct search, and GleeBox extension seem to nearly make up for it though! For those of you who don't know, GleeBox is a keyboard-centric approach to navigating the web; to offers alternatives (some efficient, some unnecessary) to actions like clicking, scrolling, selecting text fields, etc. for keyboard and command key lovers! Check it out here!
Permalink
Post Comment