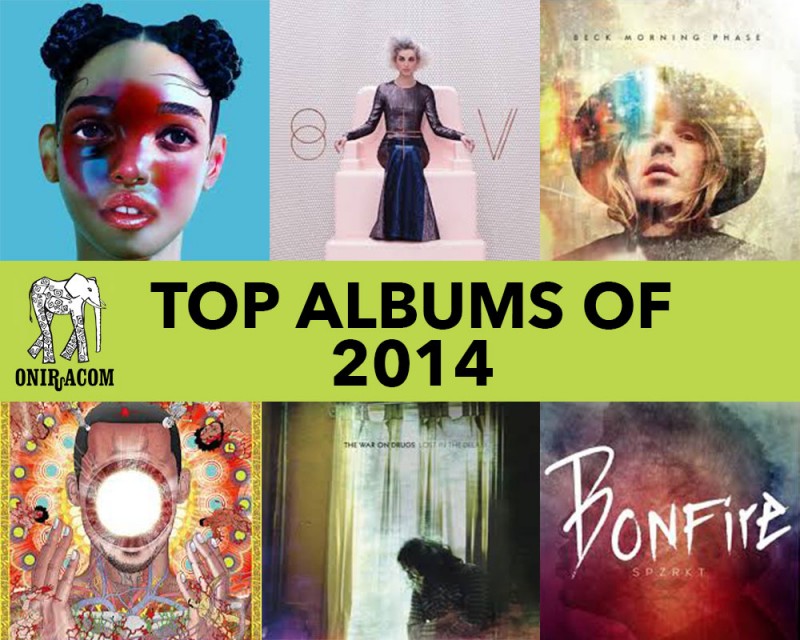 Here at Oniracom we are pretty passionate. We are all passionate about many different things, but the thing we can all agree on, is that we love music. I mean, we really LOVE music. We all weighed in on our favorite albums of 2014. So, without further ado, here are everyone's top pics for 2014. Enjoy!
CALIA:
Tough Love - Jessie Ware
No Mythologies to Follow - MØ
JASON:
1. Caribou - Our Love
2. Moodymann [self-titled]
3. Sun Kil Moon - Benji
KEIR:
01 The War on Drugs - "Lost in the Dream"
02 Spoon - "They Want My Soul"
03 TV on the Radio - "Seeds"
04 St. Vincent - "St. Vincent"
05 Thievery Corporation - "Saudade"
06 fka Twigs - "LP1"
07 Merchandise - "After the End"
I just couldn't stop playing War on Drugs. I already loved that band but this album was everything I wanted and needed it to be. Only slightly less so for Spoon (a great album to play bass with). I'm already stoked about TV on the Radio after only a few days. The rest are all good too, but honorable mention goes to Thievery Corporation for being my favorite album cover of 2014; it's perfect for the tunes, title, and theme.
HANNAH:
Tokyo Police Club - forcefield
Spoon- they want my soul
Jenny Lewis - the voyager (not my most favorite of her work, but I still love her too much to not include her)
MIKE:
Damon Albarn - Everyday Robots
Beck - Morning Phase
The Afghan Whigs - Do to the Beast
I probably liked a lot of others, but top of my head =)
BRE:
SPZRKT: Bonfire
Kimbra: The Golden Echo
Angel Olsen: Burn Your Fire For No Witness
I picked albums that captured my imagination or made me want to emulate the style. The album Bonfire is amazing. I don't know much about the artist, but the voice, the sound, the low-key beats… right up my alley. Kimbra's sophomore album The Golden Echo is weird. The beats are funky, her voice is crazy, and I can't get enough. Angel Olsen's Burn Your Fire For No Witness has tracks on it that make me want to be a lady badass. That's all I have to say about that.
JACOB:
Phish - Fuego
Beck - Morning Phase
Primus - Primus & the Chocolate Factory w/ the Fungi Ensemble
The Flaming Lips - With A Little Help From My Fwends
TAD:
The War on Drugs - Lost in the Dream
Ty Segall - Manipulator
Tweedy - Sukierae
DREW:
Benji - Sun Kil Moon - This is my undisputed number 1. To me it feels like Mark Kozelek wrote 200 songs and crafted 11 songs into an amazing record.
Heigh Ho - Blake Mills - I think one of the best guitarists currently alive.
S Carey - Crown The Pines
Eagle Rock Fire - Joe Purdy - Top song Waiting for Loretta Too Long. I am loving the new low John Cash-esque vocals.
Bahamas Is Afie - Bahamas - My favorite record to grow on. I enjoy it more with each listen.
Metamodern Sounds In Country Music - Sturgill Simpson
David Bazan & Passenger String Quartet / Volume 1 - David Bazan - Beautiful string arrangements. If you thought some David Bazan songs couldn't get any sadder, listen to this.
TRACY:
St. Vincent - St. Vincent
Spoon - They Want My Soul
Pharrell Williams - G I R L
SEAN:
Aphex Twin - Syro
HAARIS:
#3 Goat - Commune
Masked Swedish band with a whole lotta mystery surrounds this collective. Their full length album Commune is a breath of fresh air in a stagnate climate of the same nonsense churning cliche sounding rock that the market has been saturated with. If you want to ROCK pick up this record and play it form cover to cover.
#2 Flying Lotus - You're Dead
Flylo is back in his HIGHLY hyped and anticipated album You're Dead and MAN did this cat deliver. He ended up busting conventional genres of what you thought he sounded like and evolved into whatever you hear on You're Dead.
#1 Le Butcherettes - Cry is for the Flies
Teresa Suárez, aka Teri Gender Bender is not interested in what you think of her, her music, or her art. She just "is" and on "Cry is for the Flies" it all pours out. This is one of those records that will be rediscovered over future generations leaving jaws on the floor while blowing back all the skin off your body.
BONUS ALBUM
Run the Jewels - Run the Jewels 2
Press play on track one and let EL-P and Killer Mike take you on a journey all the way to the end of this insane record.
JENNA:
luke bryan - crash my party
dierks bentley- riser
JUSTIN:
Sylvan Esso - Sylvan Esso
RAC - Strangers
James Vincent McMorrow - Post Tropical
Childish Gambino - Kauai
LUKE:
Who listens to or buys albums anymore?
I have bought tons of songs but only 1 album in 2014. That was Skrillex- Recess.
KATE:
FKA Twigs—LP1
Dawn Golden—Still Life
Slow Magic—How to Run Away
Oceaan—Oceaan EP
The Antlers—Familiars