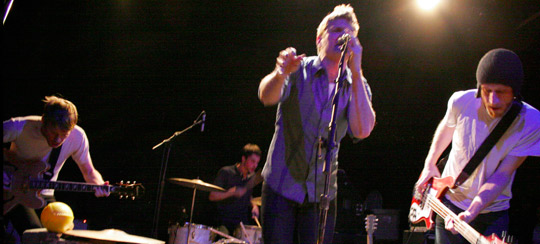 In a time when the music industry is constantly worrying about, questioning and adapting to changes in the way that people acquire and listen to music, there is one thing that hasn't changed. The power and draw of a great live performance.
Bands like Nine Inch Nails and Radiohead don't need to fear declining physical album sales because of two things: 1) these bands are leading the way by adapting to the digital age of music and 2) These bands know that they have a team of fans that will fight snow and storm to get to their live shows.
These bands have established their reputation by writing great music and putting on shows that draw crowds in. Whether they incorporate leaps in live music technology—like on the last Nine Inch Nails Tour where there was a sheet of lights that would switched on and off in reaction to the movements by the members of the band—or if they strip back the flashiness and allow their songs to communicate in a simple and humble manner. The key is create an atmosphere that will connect with the fans and get them excited.
Live music is incredibly powerful—seeing the strain and the emotion that a musician puts into the music can take a song from enjoyable to meaningful. Live music can inspire people, change ones day, change the way one feels and, by doing so, change lives. When one watches a live performance by a great band, there is a feeling like nothing else that overtakes a person. If you haven't felt the shiver that runs down ones spine or a wave of happiness that makes you want to move then you have been going to the wrong performances. (Also, there are some great videos about the power of music at whymusicmatters.org I suggest the video about Willie Johnson)
What is my advice to the music industry and to musicians out their. It's the same advice I would give to any business: focus on playing your music well. Focus on connecting with your fans during your live performances and let your fans take care of marketing the music, tickets and merchandise.
That said, I thought I would share some videos from a few of my favorite live performances.
1. Bon Iver "Wolves (Part 1 and 2)" Live in LA
Bon Iver achieved something wonderful when he committed himself to a sunrise concert. The event started around midnight and went until a little past 6 in the morning. The sleepiness, the fatigue, spending hours at a cemetry—all of it was worth it for this performance of "Wolves: Part 1 and 2"
2. The Beatles "Get Back" from the rooftop of the Apple Records building.
It's a classic. Not too many bands have been able to get men in full trench coats and hats to climb up onto the rooftops with their music.
3. MUTEMATH "Typical" on Jimmy Kimmel Live
Mutemath rose to fame primarily as a result of their incredibly energetic performances. The time that I saw them in LA 5 years ago is still one of my favorite memories.
4. Ray LaMontagne "Heaven is a Honky Tonk"
Ray LaMontagne—Austin City Limits—Heaven Is A Honky Tonk
Stu Live Crew
|
MySpace Video
Ray LaMontagne's voice is absolutely incredible. The simplicity of this song combined with his voice and his timid nature made this austin city limits performance quite memorable. (You have to wait a few minutes for him to start playing, but it's worth it, especially the ending.)
5. Jimi Hendrix "Voodoo Chile"
Another classic. Jimi rips and wails and absorbs the audience into his guitar.
6. Cold War Kids Improving at Golden Gate Park
There is something really cool about watching a band create a song. Their love of music shines through and inspires.
7. Bob Dylan "Mr. Tambourine Man" Live at Newport in 64
Bob Dylan at his most personable. Joking with the crowd and playing one of his classics.

8. Bob Dylan "It's All Over Now (Baby Blue)"
This video is probably one of the most iconic dylan performances. It's also vividly wonderful.

9. The Red Hot Chili Peppers "Californication" Live at Slane Castle
By the time this performance came out, I had heard this song way too many times. The intro improv by John Frusciante and Flea(whom I think are incredible) brought it back to life for me. They threw in some new tricks and reignited their song.
10. Paul Simon "Long Long Day" Live On the Muppet Show
The way Paul played this song on the muppet show is probably about 50 times more wonderful than the recording. The simplicity of the performance and the warm fuzzy feeling of the muppets meld together in this moving song.
11. Incubus "Pardon Me"
Back in their heyday, Incubus was electric. This live performance seamlessly merges high energy rock with a small, personable venue.
What are some of your favorite performances?