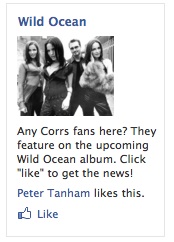 Peter Tanham of Amp Music Marketing writes, "When we start working with any musician, two of the most important goals we start with are:
1.) Build a strong mailing list
2.) Build a popular Facebook page
Fans are going to be more comfortable interacting with the artist through these mediums, and they are also the ones that drive the most sales."
Highlights from this article include:
The importance of Facebook Ads

Implementing effective Facebook Ads
1.) If You Like Those Guys… it's called a "power play," pick musicians that are similar to your style and pay to be played to their fans.
2.) Building A Good Landing Page: make sure your Facebook ad redirects them to a customized landing page which will encourage them to click the "like" button with some incentive to hear or get your music. Make sure it is the most similar sounding music to the artist you referred to in the "power play."
3.) Target Your Ads… and run multiple campaigns!
4.) Ask Questions. Encourage Clicks and Likes - (reference pseudo ad image on the left).
[READ MORE AT AMPMUSICMARKETING.COM]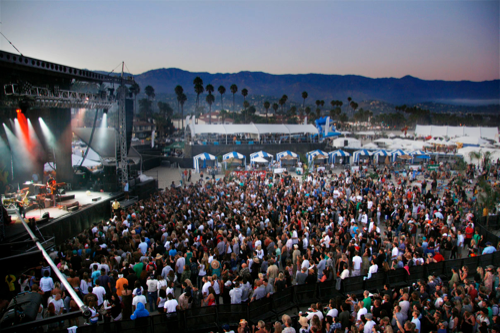 In brief: "The West Beach Music & Arts Festival 2010 will be a 4 day celebration of Music, Arts, & the California Beach Culture. The festival will host 2 days of multi-stage, fun-in-the-sun activities at Chase Palm Park at the beach, 4 days of multi-venue nightlife activities and concerts in downtown Santa Barbara, and 2 days of multi-vessel sunset cruises and concerts on the pacific ocean, out of the beautiful Santa Barbara Harbor.
The festival can only accommodate less than half of last year's attendees. Unfortunately, with many fixed-costs associated with the festival (Fencing, Stages, Equipment Rentals, etc), ticket prices will have to be increased from our desired pricing of $45-$55/ticket to $55-$65/ticket."
[READ MORE AT TWIINPRODUCTIONS.COM]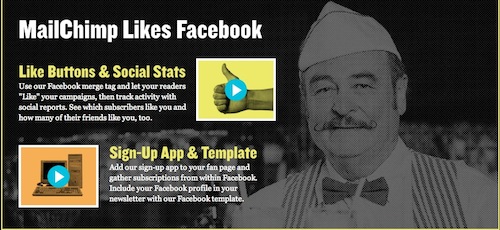 Mailchimp released a very informative overview of the newest features that their service can offer, and it looks pretty snazzy too, click here to check it out.
Mailchimp Likes Facebook: with new like buttons, social stats and sign up apps
Social Pro & List Dashboard: Social Pro provides a better insight to who your subscribers are with relevant social data. List Dashboard allows you to find out where your subscribers are located and what email clients they're using, so you can tailor your message accordingly.
Social Guide: A free, downloadable guide on how to put MailChimp's social features to work.
"Wildfire, makers of promotional tools for brands on Facebook, is releasing a new application that lets marketers and brands turn their Facebook Page or website in to a deal hub.





The new application is called Group Deals, and it is designed to be like a do-it-yourself Groupon add-on to Facebook Pages and company websites via Facebook Connect. Wildfire users can create and define their own deal-a-day style promotions, which will allow interested brand fans to purchase the deals via their PayPal accounts.
Obviously, there's huge potential here. We expect creative brand campaigns tied to group discounts, and even think there's enough here to help brands use social media to significantly impact sales."
[VIEW MORE AT YOUTUBE.COM/ONIRICRECORDS]