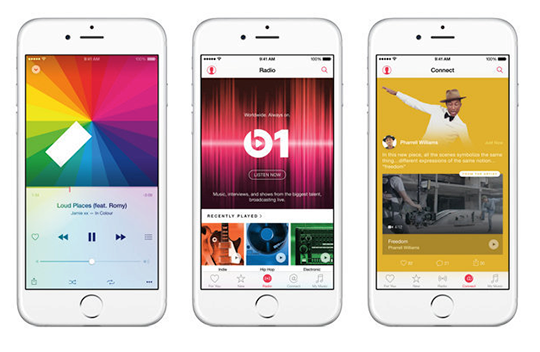 Apple entered the music streaming marketplace with the launch of Apple Music, debuting worldwide on June 30th. The app and streaming service aims to consolidate all of your favorite features in online music and foster greater engagement between fans and artists. The release quickly produced animated debate in the tech and music communities; namely, how does Apple Music compare with existing services, such as Spotify and Tidal? Does Apple Music offer any new features that will tangibly enhance music consumption?
Apple Music, Spotify, and Tidal offer the same features in terms of price point, library size, and ease of use. Each platform runs a standard price of $9.99/month per user, boasts a catalog of 30 million songs, and a radio feature for passive listeners. Apple enters with additional features such as Siri Control, Beats1 Radio, Social Connect, and the support of influential superstar Taylor Swift. Not to mention the family plan for up to 6 members at just $14.99/month. Sounds tough to beat, but will music fanatics actually make the switch from their current subscriptions?
Apple Music neglects to offer a free tier other than the limited free trial, while Spotify provides an unlimited free subscription available for both desktop and mobile users, supported through ads. Apple's streaming service also lacks notable social features, such as the ability to follow friends' profiles, share playlists within the app, and integrate with social media. Tidal strives for leadership in the market through its superior audio quality, known as lossless audio. Apple Music's audio bitrate of 256 kbps pales in comparison to lossless audio; however, Tidal's premium price point may only attract a niche market of audiophiles, which hardly detracts from Apple's potential market share.
The most exciting contributions stem from Apple's collaboration with Beats and Trent Reznor of Nine Inch Nails, who provided insight into what artists need from the online marketplace. This collaboration created Social Connect and Beats1 Radio, which might be the features that pull consumers away from their current subscriptions. Social Connect allows artists to publish backstage photos, rough cuts, handwritten lyrics and more on their profile, while also giving fans the ability to comment. Trent Reznor imagines Connect as a space for artists to share virtually anything they want without a paywall, making content available for anyone to view, not just paid subscribers. He believes this creates empowerment of the artist and encourages artists to be intricately involved in the presentation of their content in their marketplace. Beats1 Radio functions as an in-house radio, broadcasting 24 hours a day and features shows hosted by musicians and celebrities such as St. Vincent, Jose Homme, Pharrell, and more. The radio feature is free and available to anyone with an Apple device in their pocket. Beats1 has already received overwhelmingly positive feedback amongst consumers on Twitter and other social media platforms.
Apple historically altered the music marketplace with iTunes, alongside the invention of the iPod. Is the tech giant poised to revolutionize once again with their music streaming service? Maybe. Maybe not. Apple Music's initial launch doesn't generate much wow factor, but this doesn't necessarily mean it won't gain mass adoption. Apple's advantage is the well-established popularity of the Apple ecosystem and the ability to not only integrate with all of your devices, but also your existing music library. Apple Music may emerge as the most convenient and comprehensive streaming service, and indubitably as a worthy competitor to both Spotify and Tidal.