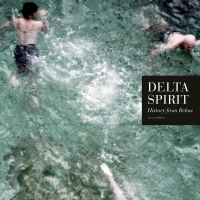 In the wake of a not so tragic album leak, Delta Spirit recently released their second studio album, just in time for a 50 day US headlining tour. They ended their tour right here in Beautiful Santa Barbara with their second sell-out show in a row, following a successful night at the El Rey Theatre in Los Angeles.
Their new album, "History From Below" is a beautiful mix of lyrics and powerful melodies, inspired by life and the true American spirit. Lead Vocalist and songwriter Matt Vasquez was born in Texas, and raised in the mid-west before moving out to California, the inspiration for the track "Golden State." History From Below boasts the emotionality and musical maturity that you would expect from a Veteran band. Although Delta Spirit have been together for five years, their Sophomore release is packed with complex compositions and well driven arc. The music speaks for itself as the band takes you on a journey through your own history via the ears of four young and talented musicians.
The content of History From Below is not what you would necessarily expect from the genre. The song "9/11" begins the album with an oddly political feel, which seems to give some context to the bands definition of Americana. "Bushwick Blues" quickly transitions into the true soul of the album, carrying the themes of life, love, mistakes, and redemption.Vasquez pours out a little of his personal life in the hymn-like ballad "Vivian," which is dedicated to his recently deceased and greatly beloved grandparents, the inspiration of the track.
Delta Spirit has a talent for keeping to easily defined themes in a playful and mature fashion, which in my opinion is hard to come by these days. Delta is known for producing powerful ballads, distinguishing themselves early on from the OC Garage Band crowd with socially conscious songs like "Street Walker" and "People Turn Around." When listening to History From Below, it is easy to see that the band has not made any compromises to their music or vision, becoming only more experienced and driven over time.
In my opinion when it comes to the Indie Scene, it is best to stick with those who brought the genre into public's eye. But based on the zealous fan-base that Delta Spirit has produced, it would be hard to find a Delta fan that doesn't stand by the band's originality. Be looking for this album, and this fantastic, independently produced band to blow up in the near future. The word is out—History From Below is a Five Star album.