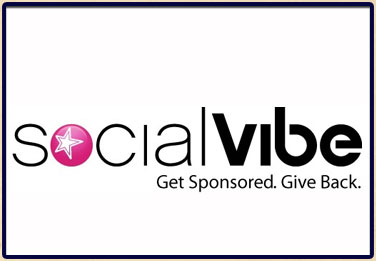 Again and again social networking has helped countless businesses gain vast promotion and exposure to their industry. Innately, this is nothing new. Current web finds have led me to discover that social networking can be used to help change the world. That's right, with just a few clicks; You can help change the world for the better. Recently, I stumbled upon this awesome website called SocialVibe. Though the site has been launched since January 2007, over the course of time it has progressively developed. With over 1,750,000 members, it's one of the leading social media sites used to connect with over forty different charities and non-profit organizations.
SocialVibe is a service that gives people an opportunity to use social media to make a real difference. All you have to do is sign up, pick a cause, choose a sponsor and place your badge. Once this is complete, you start earning points towards donations towards the charity of your choosing and various sponsor perks.
Here are a few ways to get started:
Pick a Cause
Picking a cause should be your first step on SocialVibe. It is in this step that you decide what great organization all of your Internet fame is going to help out. There is a fairly wide range of causes to choose from. All of the causes are great, so no matter which one you pick you will be doing a great service by helping out that charity.
Get Sponsored
After you pick your cause, you select a sponsor that will help you raise money for that cause.The sponsors consist from big name celebs to different business; including:Daniel Radcliffe—who is sponsoring "The Trevor Project" as well as many different franchises like American Express, Smartcar, KIA Mobile, the list goes on and on. This sponsor is also responsible for some the possible perks you will receive. Most of the perks are just the opportunity to be placed within a drawing for lots of different cool prizes, but there are other perks that come up from time to time.
Add SocialVibe to a Profile
The next step is to pick one of your social profiles to display whatever sponsor badge you picked. In addition to several social networks, you can get the HTML code and just post it to your blog or website if you prefer. Whether it be Twitter, Facebook, Myspace, etc.
Points System
Points can be earned several ways. You earn points for just having your badge posted, but you will earn more points if people actually see the badge. This means you should probably post it on your most popular profile in order to maximize your point total. Points are also earned by filling out parts of your profile and updating your SocialVibe profile on a daily basis. The more points you have the more you give to your cause and the better chance you have of winning some cool prizes from either your sponsor or SocialVibe. There are a variety of prizes depending on the sponsor, some include: iPods, giftcards, surfboards, t-shirts, etc.
SocialVibe is a site where these different organizations can utilize social media to help expand awareness and support for their worldly cause. It recognizes that in social media, individuals hold a means to truly generate a wide array of awareness that many charities and non-profits need. So far the site has raised over $700,000 dollars and will continue to grow as more and more members join. This is truly a remarkable site giving social media users the chance to do astonishing things with simple action.
Please check out more at: SocialVibe
Also, visit their blog for more updates: The Vibe