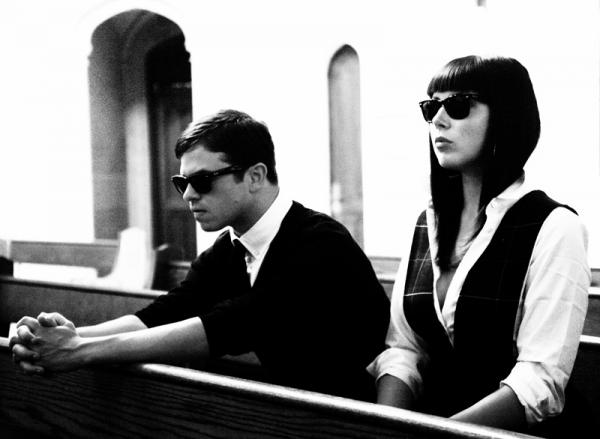 The ragin' Brooklyn rock band Sleigh Bells made their way to the SOhO Music Club last night in Santa Barbara, and had their Californian fans wanting to rock out all night with their amazing and hardcore set. With only one album out titled "Treats," fans last night were begging for more and more musical treats from the rock hard duo after their set ended. As the crowd was raving for an encore, the lead singer Alexis Krauss mentioned, "I don't know if you guys have noticed, but, our album is only thirty four minutes long." Although short, their set was surely awesome. Not only was every song on their album played, but Alexis and Derek (the lead guitarist) really had the crowd riled up and rocking out, as all rock shows should be! It had been a while since I had been to a show quite like this one. There was screaming, sweat, and some moshing here and there. Mainly just eccentric head-banging and dancing took place throughout every song, which made the experience even better. As small of a venue as SOhO may be, it seemed as though Sleigh Bells were performing for thousands. Their energy within every song exceeded all expectations, and made it one hardcore and kickass show.
Opening with "Tell Em," and followed with "Infinity Guitars" which is my personal favorite, it definitely did not seem like there were only two people on stage. Yes, it sounded THAT awesome! Alexis and Derek were both interacting with their fans during the entire show. Diving into the crowd, dancing with the crowd, and just plain rocking out with the crowd during every single song. After getting their fans a little more rowdy, they decided to slow it down with "Rill Rill." At that point, I couldn't even hear Alexis' voice anymore, the entire crowd was singing along, including myself. Her voice sounded even better than the record, and Derek's guitar skills had my eyes spinning. Their musical chemistry is one that most certainly connects.
Sleigh Bells is making their way down southern California, heading to Costa Mesa tonight and LA tomorrow! So if you're in that area and are craving a good head-banging and dancing time, definitely try to make it to their show! More tour dates can be found on their MySpace page here Can't wait for their sophomore album! Sleigh Bells are well on their way to the top!
Categories
183 POSTS

153 POSTS

109 POSTS

87 POSTS

76 POSTS

54 POSTS

46 POSTS

44 POSTS

38 POSTS

37 POSTS

29 POSTS

29 POSTS

27 POSTS

27 POSTS

28 POSTS
Popular Posts
Archives
2016
1 POST

3 POSTS

1 POST

3 POSTS

6 POSTS

2 POSTS

4 POSTS

4 POSTS
2015
5 POSTS

3 POSTS

6 POSTS

1 POST

1 POST

4 POSTS

2 POSTS

6 POSTS

9 POSTS
2014
6 POSTS

13 POSTS

9 POSTS

4 POSTS

12 POSTS

10 POSTS

6 POSTS

6 POSTS

10 POSTS

9 POSTS

7 POSTS

12 POSTS
2013
7 POSTS

9 POSTS

6 POSTS

5 POSTS

10 POSTS

12 POSTS

6 POSTS

12 POSTS

11 POSTS

12 POSTS

11 POSTS

9 POSTS
2012
11 POSTS

14 POSTS

10 POSTS

10 POSTS

5 POSTS

2 POSTS

6 POSTS

6 POSTS

2 POSTS

5 POSTS

2 POSTS

5 POSTS
2011
8 POSTS

6 POSTS

7 POSTS

9 POSTS

16 POSTS

6 POSTS

9 POSTS

7 POSTS

6 POSTS

9 POSTS

10 POSTS

14 POSTS
2010
8 POSTS

12 POSTS

4 POSTS

9 POSTS

11 POSTS

20 POSTS

8 POSTS

11 POSTS

8 POSTS

15 POSTS

8 POSTS

4 POSTS
2009
8 POSTS

11 POSTS

20 POSTS

12 POSTS

1 POST

4 POSTS

1 POST
Authors
125 POSTS

65 POSTS

46 POSTS

44 POSTS

39 POSTS

18 POSTS

18 POSTS

17 POSTS

13 POSTS

12 POSTS

11 POSTS

10 POSTS

10 POSTS

9 POSTS

9 POSTS

9 POSTS

8 POSTS

8 POSTS

8 POSTS

7 POSTS

7 POSTS

7 POSTS

6 POSTS

6 POSTS

6 POSTS

6 POSTS

6 POSTS

5 POSTS

5 POSTS

5 POSTS

4 POSTS

4 POSTS

4 POSTS

4 POSTS

4 POSTS

3 POSTS

3 POSTS

3 POSTS

3 POSTS

3 POSTS

3 POSTS

2 POSTS

2 POSTS

2 POSTS

2 POSTS

2 POSTS

2 POSTS

1 POST

1 POST

1 POST

1 POST

1 POST

1 POST

1 POST