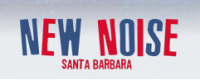 Beginning tonight is Santa Barbara's own New Noise, a music conference and festival. I feel pretty nerdy when I get more excited about the panels than the music at festivals, but it's happened again. (Same thing with SXSW!)
Here are the panels I am most excited about seeing tomorrow and Saturday:
1) 'EVERYBODY LOOK AT ME I GOT 3G'
MOBILE: 
APPS, THE CLOUD, 
NEW DISTRO & WHY WE SHOULD CARE

Friday - 11AM (RIVERA BALLROOM)
As the 'Cloud' grows, how will we get our music? No more pesky downloads? What will it mean to 'own' a record in 2012? We ask our group of experts how they see digital music expanding into the cloud and what devices they think will win over consumers. What mobile applications have the ability to be a true 'game changer?' Discussion & Q&A with audience will follow this panel.
Panelists: Sean Campos (CTO, Oniracom), Brian Felsen (President, CD Baby), Michael Crandell (CEO, RightScale), Jason Fisher (New Media, Epitaph Records)
Moderator: Jacques Habra (Start Up Guru & all around great guy)
I have been mildly obsessed with music in the cloud and streaming services for the past 6 months, plus our CTO Sean combined with the heads of CD Baby, RightScale, and Epitaph should make for a great panel.
2) 'I WANT YOU TO WANT ME' 

TOPSPIN'S IAN ROGERS: 
WHY IT'S ACTUALLY PUNK ROCK TO
 MARKET YOURSELF & HOW TO DO IT

Saturday - 1:30PM (RIVERA BALLROOM)
Ian Rogers discussing TopSpin, marketing and how digital media & marketing is taking over the music industry one fan at a time. Ian will spark a lively discussion and dedicate a large portion of this panel to talk and talk questions from our registrants.
At Oniracom, we are Topspin-certified marketers and frequently use their platform for our clients. Always love talking with Ian.
3) 'TOO MANY PARTIES & TOO MANY PALS'
HOW SOCIAL
 NETWORKS HAVE CHANGED MUSIC 


Saturday - 12:30PM (RIVERA BALLROOM)
We discuss how Facebook, Twitter, Squarespace et al have changed the music industry (for the good or bad). In particular, how it has affected marketing, touring and fan outreach? Is this a GOOD thing? How are artists and the industry using the technology and should they be?
Panelists: Chris Trovero (Epitaph/Anti Records) , Mollie Moore (A&R, Atlantic Records), Bob Bradley (Authentik Artists) , Scott Parent (Founder, Silverjet),
Moderator: Charles Donelan (Writer, Santa Barbara Independent)
I'm not sure if they picked worthy panelists on this topic, but I've worked a lot in this space (social media for artists), so I'll be interested to hear what they say and if I can argue with them
Also, be sure to check out Oniracom's CEO, Jacob Tell, on a panel called "Flat Earth Society: It's Not Easy…. Being Green" on Friday at 10am.
Jacob and I (Brendan) will also be on a one-on-one mentoring panel for artists on Saturday from 10am-1:30pm, so stop by and say hi for that. Sign up early if you want a spot to chat with us and get some advice.