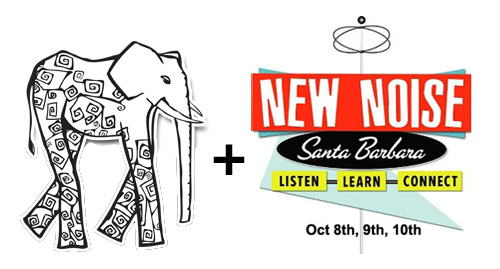 Oniracom will be well represented at this weekend's New Noise Music Conference and Festival, held in Oniracom's backyard of Santa Barbara, CA. New Noise Santa Barbara is a three-day music and digital media conference that will showcase emerging and established bands, host educational panels on the music industry's hottest topics, present esteemed experts from all aspects of the business, and serve as a place for players big and small to connect and plot the future of music….
Oniracom's vice president and creative lead, Jacob Tell, will be a featured panelist on two panels during the conference: "The Future is Unwritten: Exploring The New Frontier In Music" on Friday, October 9th at 2:00pm at the Channel Islands Room in the Canary Hotel, and "The Green Musician: Make Music WIthout Hurting Mother Earth" on Saturday, Oct. 10th at 1:30pm at the Channel Islands Room in the Canary Hotel. In addition to Jacob, Oniracom's social media director, Brendan Moore, will be the Official House Photographer for the conference.
Additionally, several Oniracom clientele will be involved in the weekend. Zach Gill will perform at SoHO Restaurant and Music Club on Friday, Oct. 9th at 9:30pm. Matthew McAvene, an artist on Oniracom's label, Oniric Records, will be playing with fellow Oniracom client Culver City Dub Collective at Sandbar on Saturday, Oct. 10th starting at 10:30 pm. Jack Johnson, a longtime client of Oniracom, will have the World Premiere of his new film "Jack Johnson: En Concert" at the Arlington Theatre on Saturday, Oct. 10th at 7:00 pm. In addition, Jessica Scheeter, director of Oniracom's non-profit partners All At Once and Johnson Ohana Charitable Trust, will be a panelist on "The Green Concert" panel on Friday, Oct. 9th at 10:00 am in the Riviera Room at the Canary Hotel.
As you can tell, its going to be a busy and exciting weekend for Oniracom, and we are all so thrilled and honored to be apart of this groundbreaking music conference and festival. Be sure to check back in the near future for a detailed recap of our experience at New Noise!