Long gone are the days of records, tapes, and compact discs. But what is in store for music storage? Music streaming services are surfacing, making it possible to not only listen to music on computers, but also in cars, on TVs, throughout home sound systems, and on mobile devices. Countless services allow users to access thousands of albums and millions of songs instantly on the device of their choice. Users can create libraries of their favorite songs, listen to pre-made or personally created playlists, share songs with friends, purchase songs and so much more. While these services allow users to sync their created libraries and playlists, many music fanatics are looking for what's next.

A missing key component to current cloud streaming services is the addition of a "storage locker." A storage locker would allow users to upload their own library of songs that are not available in the services' already established libraries. These songs would essentially be stored and become apart of the current cloud library a server hosts. For example, a user would be able to upload a live recording or underground version of a song they have that their service does not. The user would then be able to sync their uploaded song with their computer, car, TV, home system or mobile device. However, this brings up the issue of storage. How much music can users store? Would users be charged for storing their music? Specific usage terms would need to be established for users.

On the horizon with cloud services are Apple and Google. Each company has been working on negotiations with labels and rights holders to allow for music cloud storage. Concerns are centered on playback compensation and the storage of illegally downloaded songs. While there are problems holding the two companies back, each continue to progress in the creation of their cloud service.

Apple's previous cloud strategy, MobileMe, was based around the syncing of computer and iPhone data. The 2008 launch of the service did not prove to be very successful, only capturing the service of roughly 12% of iPhone users. However, this has not set Apple back. Apple continues to push towards streaming iTunes. They feel that they can successfully stream users' libraries to portable devices. In doing so, Apple could allow their 160 million iTunes account users to stream their music to virtually any device.

Google's Google Storage for Developers shows the effectiveness of cloud sharing. The service allows developers to store and access data from anywhere on the Internet. Google charges users based on gigabyte usage and number of requests. With a cloud service already in use, Google aims to allow for the cloud sharing of music data.

With Apple and Google's cloud services still in the development stage, current services allow users to stream already uploaded libraries of music to their portable devices. Many services feature millions of songs on demand, fast search engines, playlist creation, and radio stations. Services also serve somewhat of a social purpose, letting users connect with friends and other users with similar music interests. These streaming services may appear to be duplicates of each other, yet they each offer something unique. Prices vary for usage, with some services even being free; the complexity of sites and services offered also vary among streaming providers. By examining each individually, music fanatics can find the streaming service that best suits them.

Grooveshark

Pros: simple layout; easy share to email, Facebook, Twitter, Stumble Upon and widgets
Cons: limited features
Cost: Basic free; Plus (no ads and new features) $6.00/month; Anywhere
(Plus + mobile device syncing) $9
Devices: Android, Blackberry, jailbroke iPhones, Nokia, Palm OS


Last.fm

Pros: keeps record of songs listened to; recommends new music and concerts; the
Scrobbler (automatically fills your library and updates it with what you have been
listening to on your computer or iPod); radio stations
Cons: limited features
Cost: free
Devices: computer only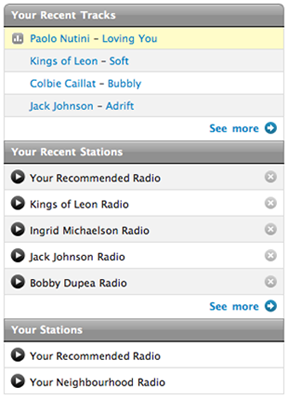 MOG

Pros: extremely fast search engine; artist radio to similar artist radio continuum (can
play a radio station with a single artist or with multiple artists that are similar);
high control of playlists; create playlists with multiple artists, or artists/tag
combination; customize profile page
Cons: more complex system; many features
Cost: Basic (browser only) $4.99/month; Primo (all apps) $9.99/month
Devices: Andriod, iPhone, iPod Touch, Roku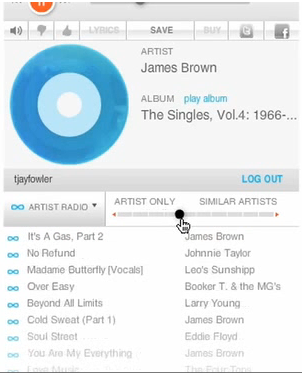 Music Unlimited/Qriocity (Sony)

Pros: music coming soon
Cons: currently only streaming movies
Cost: to be determined
Devices: Sony devices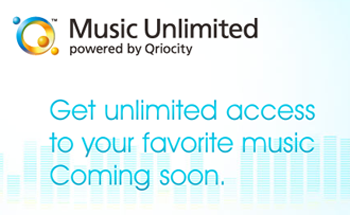 MySpace Music

Pros: linked to MySpace account; easy to search for artists; easy to create playlists;
artist events posted
Cons: only for computer
Cost: free
Devices: computer only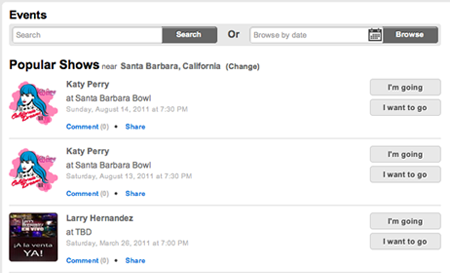 Napster

Pros: themed playlists (moods, not just artists); ad-free radio stations; easy to create playlists; new releases every Tuesday
Cons: limited features
Cost: Napster $5.00/month; Napster + Mobile $10.00/month
Devices: Android, Blackberry (coming soon), iPhone, iPod Touch, home
audio and theatre





Pandora

Pros: allows users to listen to pre-generated stations, making it quick and easy to
listen to music; users can search for stations by artist, song or genre, and save the
stations they like
Cons: limited management of playlists—can only skip a few songs per hour and can only "add variety"

Cost: free
Devices: Android, Blackberry, iPhone, Palm Pre, Windows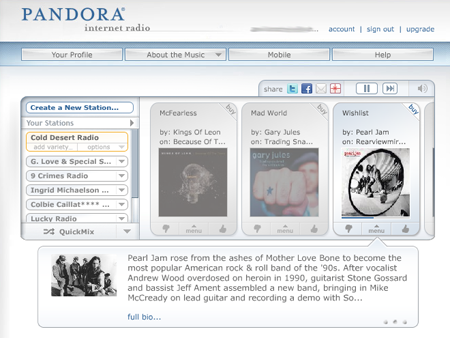 Rdio

Pros: easy to search for artist, album, song or playlist; can follow other users,
influencers and top listeners; connect to your Facebook, Twitter and Last.fm accounts

Cons: limited features
Cost: $4.99/month
Devices: Android, Blackberry, iPhone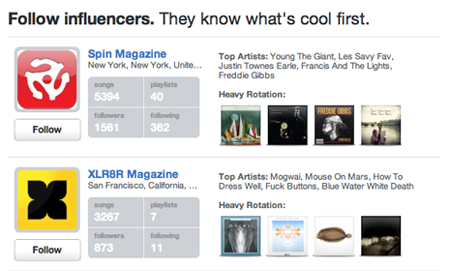 Rhapsody

Pros: create playlists; listen to radio stations; read articles about new releases and artist
Cons: limited features
Cost: $9.99/month for 1 device; $14.99/month for up to 3 devices
Devices: Android, Blackberry, iPhone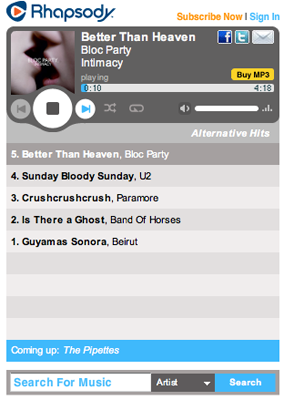 Sound Cloud

Pros: great for artists; upload or record music; allows users to leave comments at
specific times during track; connected to many social networks; widgets to share music;
iPhone applications
Cons: music does not include produced/labeled songs
Cost: free
Devices: iPhone


Spotify

Pros: easy to create and share playlists; specific search specifications; easy to sync to devices; offline mode
Cons: not yet available in the United States
Cost: to be determined
Devices: Android, iPhone, iPod Touch, Symbian, Palm, Windows