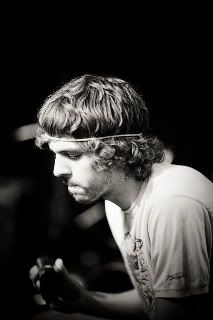 Oniric Records recently caught up with Marc B's percussionist, Maxx Farris, during a surf trip in Mexico. Here's what he had to say.
1. Â Who the eff are you?
Hi world, I'm Maxx Farris. Born and raised in Clovis, California (Map). I now reside in Oxnard, California (Map). I play percussion with Marc B. I've been playing drums my entire life, educated in the art of Jazz, Latin and Funk.
2. Â What do you always have with you in your pocket?
A lighter.
3. Â How long have you and Marc been playing together?
Marc and I have been playing together for some months, hopefully many more to come.
4. Most Life-Changing Music Moment?
Hmmm… I would have to say it was when I was about 7 years old. My dad took me to see Tower of Power. Ever since that show I have always known that my purpose on earth was to play music. Damn I wish I could groove like those guys.
5. Â What are you listening to these days?
My influences come from every era and every corner of the Earth. I listen to a lot of Jazz and Latin music. Old school rock lies deep within my heart and you can never have too much Funk in ya. Lately I've been listening to MGMT, SOJA, the Doors, Third World and Bob Dylan. I also frequent a lot of renaissance and classical composers.
6. Let's talk water.  How would you describe your surf style?
Surf any wave, have fun, who cares what you look like. I just enjoy the ocean, but I guess I have an old school approach to surfing. Barrels and speed. Just ride the damn waves!
7. Â Ok, back to music. What gear do you play on stage?
I play:
-Meinl Limited edition Cajon
-LP Shaker
-LP tamborine on a foot
-pedal
-Sabian AAX hi-hats
-Pearl Chad Smith signature Snare drum
-Remo Leon
-Mobely signature Djembe
8. What's your favorite song to play at a gig?
My favorite song of Marc's to play is "Mr. American." It's a new song that Marc wrote about the selfishness of our culture. The rhythm is solid and you can't help but to be affected by the lyrics. I feel like my soul really comes out through my instruments on that one.
9. Favorite show you've played?
Marc and I have played quite a bit of shows in the little time we have been playing together. Every show is a new experience and every show the music feels and sounds better. My favorite show so far was when we opened up for Hawaii's Sashamon for the West Beach Festival after party. It was such an honor to play with those guys, and they brought the house down.
10. We understand a lot of your equipment was recently stolen. Explain.
Ya, I recently had my car broken in to. I woke up and went outside to leave my friends house and saw that my window had been smashed in. My heart sank. They took everything that was in a case. They did leave my snares, bass drum and djembe. They got away with my Cajon, my Bass Pedal and my Cymbal bag including 3 sets of hi-hats and about 10 other cymbals that I use on stage. I just hope that the instruments get sold to someone who will take care of them and play them. I made a report with the police and they said they'll "look for suspects". I have serial #'s on some stuff so I'm going to send that in and try to track the guy down. Ya I'm bummed but at least they left the car.
11. Â  Any plans in the near future for you and Marc B?
Marc and I are touring around California in November, Hawaii in December, Costa Rica in January, and soon the World. Look for a new full-length album coming your way next summer. It's going to blow your face off.
Look for Farris this winter playing music with Marc B. in San Diego, Orange County, Los Angeles, Santa Barbara, San Luis Obispo, Santa Cruz, Berkeley, San Francisco, Honolulu, and Haleiwa.
Follow Maxx on Twitter: @maxxfarris
Upcoming Tour Dates:
Nov 12 KUCI Radio 88.9fm On-Air Performance - Irvine, California
Nov 15 The Clubhouse w/ Chase McBride - San Luis Obispo, CA
Nov 16 Photoshoot with j.shipley photography - Santa Barbara, CA
Nov 21 IASL Benefit @ The Aquarium of the Bay - San Francisco, CA
Nov 24 Sandbar w/ Coy Bastards (of Iration) - Santa Barbara, CA
Dec 5 Dakota Lounge w/ Trevor Hall - Santa Monica, CA