FYF 2013 completely won me over, and it instantly became one of my favorite festivals. From the music to the giant emoji balloons to the food trucks to the overall ~vibes~ of the festival, FYF was an amazing experience and one of my best memories from last summer. This year's lineup is, in my opinion, one of the best lineups of the festivals this season, and here's a quick preview of what i'm most excited for:

The lineup has changed slightly since it was announced in the spring, first with the announcement that Death Grips was breaking up, and just recently, Mount Kimbie canceling due to visa complications and that Darkside, although still playing the festival, would be separating after they finish their run of shows.
SATURDAY:
-Conan Mockasin and XXYYXX to start off FYF 2014!
-Chet Faker: Flume's BFF and fellow Australian, I saw him at Lightning in a Bottle and his voice made everyone swoon.
-Todd Terje (conflicts with Little Dragon): Norwegian DJ Todd Terje will be performing live! Very recently started to listen to him, so I can't wait to check him out.
-Slowdive: According to my twin sister and former Oniracom intern Carla, Slowdive at Primavera in Barcelona was ethereal. Primavera also has a huge impact on FYF as it is one of Sean Carlson's (the creator of FYF) favorite festivals.
-Caribou: His new album comes out later this year, so I'm excited to be able to hear it (they do conflict with Tycho though).
-Four Tet: SO excited to finally see Four Tet.
-Phoenix: their headlining set at Coachella 2013 was amazing-but that was over a year ago, so i'm interested to see what they do at FYF since they haven't had new material in a while.
SUNDAY:
-Les Sins: Toro Y Moi's dance-y side project will be releasing an LP in November. Excited to dance my way into the second day of the festival!
-Kindness: his music is as smooth as his hair, and his new album features Kelela and Blood Orange who will both be at FYF. Possible guest appearances onstage?
-RYAN HEMSWORTH: To be completely honest, a little obsessed with Ry Hems: he's cute, loves cartoons, has the best social media presence (i.e. his tumblr), and makes really fun music—so if I ever meet him I will probably lose all control of my body. Come find me and my friends taking up the entire front row at his set ✪‿✪
-Mac Demarco: I've heard he has a "controversial" stage presence while performing so i'm excited but also a little scared to see him?
-DARKSIDE: Their set at Coachella this year was one of my favorites, so I was so sad when I heard the news they were breaking up. They released 2 new tracks with that announcement, which only makes me more sad that the era of Darkside is coming to an end.
-John Talabot: Part of the Young Turks family, Talabot also has a side project Lost Scripts with Pional, who I saw last year at FYF and had so much fun.
-Flying Lotus: With the posters all over LA, You're Dead is probably the most anticipated album of the fall so I will most definitely be at the front to hear some of the new tracks!
-Jamie XX: As one-third of the all-the-feels trio The XX, Jamie XX has developed a very successful discography as a solo artist. I'm also still traumatized by the line I was faced with when I tried (and failed) to see him at Coachella 2013, which literally wrapped around the entire festival grounds. Couldn't think of a better artist to end FYF 2014!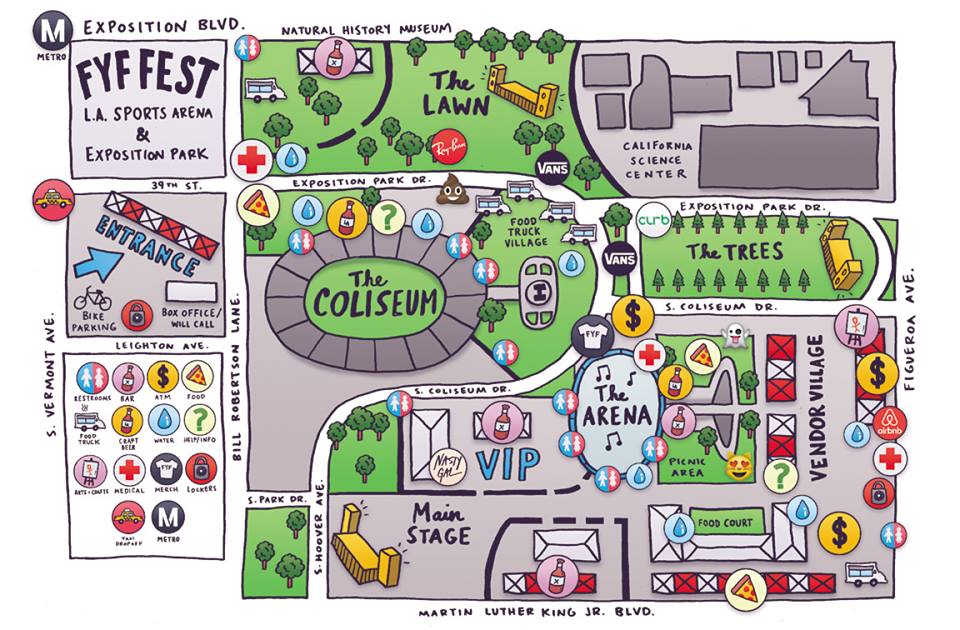 FOOD: Stumptown coffee's cold brew, all you need on a hot summer day.
MERCH: I am a huge fan of all of FYF's design. It's minimal, and this year their partnership with The Quiet Life produced an amazing t-shirt that I will be immediately buying. FYF's poster, with the famous skyline, is also great and I plan on snagging one to put next to my 2013 poster.
All in all, SO UNBELIEVABLY EXCITED FOR THIS WEEKEND. Not only for the music, but this is the first time that I will be going with all of my best friends to a festival, and we're having a massive sleepover at my friend's new place downtown. Another one of my best friends (finally) returns from being in Europe all summer on Friday, so this weekend is full of wonderful, wonderful things. See you all at FYF!