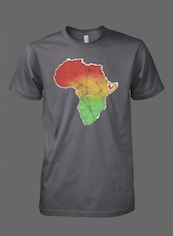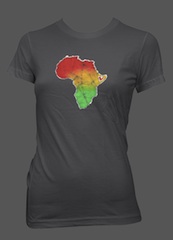 Our client and friend Duane Stephenson has launched the Africa T, in both men's and women's styles, with 100% of the proceeds from the sale of these shirts going to the United Nations World Food Programme, the world's largest humanitarian agency fighting hunger worldwide.
Famine is devastating parts of Somalia and the Horn of Africa is suffering from the worst drought in 60 years. Many men, women, and children are at risk and need your help NOW.
In addition to purchasing Duane Stephenson's Africa T, here's how YOU can help:
DONATE VIA TEXT:

In the US, please share our SMS giving option: Text AID to 27722 to donate $10 to help save lives in the Horn of Africa
In Canada: Text RELIEF to 45678 to donate $5 to help save lives in the Horn of Africa
In UK: Text AID to 70303 to donate £3 to help save lives in the Horn of Africa
Here's some links for additional information on the situation at hand:
Watch the video "Famine in Somalia - You Can Help"
Photo gallery of the Horn of Africa Drought
Read the UN's official press release about the situation in Somalia
Read the latest on the crisis in Kenya
Read the WFP's latest Horn of Africa update

Please do whatever you can to help.
Thank You