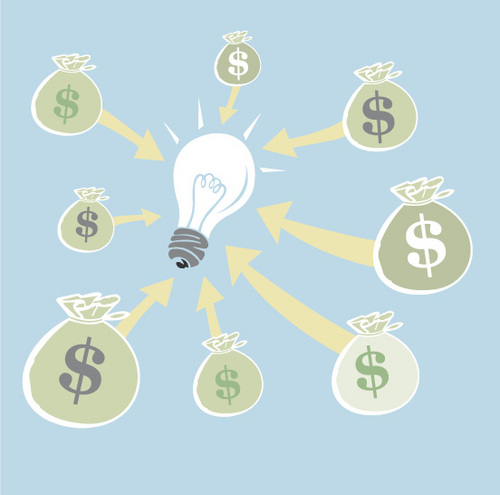 Crowd fundraising—often referred to as crowd funding or crowd sourcing, is a method to raising money for new projects and/or businesses by inquiring micro donations from a large number of supporters and sponsors. Though this is currently becoming more and more popular, for years charities and non-profits have used this approach to gain public responsiveness. Nowadays, with the excessive shift in social media, crowd funding has developed into a sustainable fundraising mechanism for all new music, artists, films, creative ideas and projects, in addition to charities and nonprofit organizations.
There are a few drawbacks to this new web-based phenomena - the lack of quality, confidentiality, and the reliance of crowd sourcing. When you open the doors, anyone and anything can be posted on these sites without digression, which leads to inconsistency and trying to deal with matters out of your control. Another caution is to be careful not to give away competitive information. Intellectual property theft is a concern, so anyone who has an idea through a crowdsourcing platform has to be careful not to hand over a great idea on a public forum and never get credit for it.
Now, if you are considering crowd funding your business or project, you must first decide which best fits your foundation. There are many different platforms of crowd funding, from supporting an upcoming new artist to helping make a difference throughout the world. Kickstarter for example helped Invisible Children—a nonprofit organization that spreads awareness of the 24 year long war in Uganda—raise over 20,000 dollars to fund a documentary film. They sent the well-known band Yeasayer and a few others to join Invisible Children on a journey to Gulu, Uganda. While there, the bands learned about the many affects the 24-year-long war has had on the area and its inhabitants, and they learned about what's being done to stop it. Pretty amazing right? These sites can help acheive the unthinkable!
If you're looking for ways to bring awareness and knowledge to a charity or NPO you can visit these websites: Crowdrise, Razoo, Giveo, Givezooks!, RocketHub, SocialVibe:

If you're looking for ways to kick-start your new ideas in media such as film, music, art, or even fashion you may want to check out these: Catwalkgenius, Kickstarter, IndieGoGo, PledgeMusic: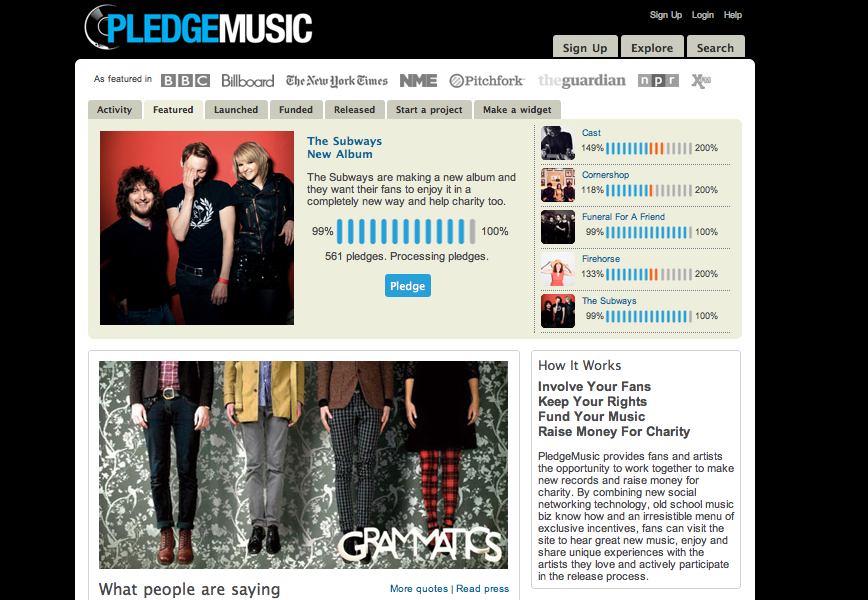 PledgeMusic has provided numerous bands and emerging artists as well as given fans the opportunity to work together to make new records and raise money for charity. Sophie Madeline for example, is an upcoming musical artist from Brighton, England that benefited from using PledgeMusic. She has a voice beyond her experience and is already compared to remarkable singers like Feist and Aimee Mann, but she still needed help getting her album funded. So she turned to PledgeMusic and through this she was able release an album that would not have been possible without the support of fans who helped raise money via Pledge Music for the mixing, mastering, and manufacturing. Possibilities like this are absolutely limitless.

Crowd funding is great because of the fact that anyone can take part. The most important thing to consider about crowd funding your enterprise is that many people involved have and share the same passions. This shared passion will lead to bigger and better ideas, which then can lead to making a real difference. Helping others obtain the goals and passions is what life's about. Be sure to check out the websites above and find what platform best fits you.