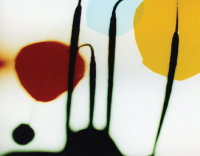 Thomas Campbell makes "stuff". That's the short description. But if you take a look at his body of visual work, you'll see that the word is appropriately broad. Film, paint, photography and typography are just a few things he's impossibly talented at.
If you've been following Jack Johnson's career as a musician and as a film maker, then you've seen Campbell's work. Check out the beautiful handwritten "Jack Johnson" font and macro photography on www.jackjohnsonmusic.com as well as the artwork featured on his surf films "The Seedling", "Sprout" and "The Present" (all on Jack's Woodshed Films). Campbell has brought a bold, timeless and fluid graphic touch to each project.
Campbell introduces himself on his web site's bio:
"Well, I am not a huge fan of using words to describe art and every time I am asked to write an artist statement my gut instinct is just to say "Um, I make stuff". And in reality, that is what I do. I am a creative person by nature and by trial and error - and I just enjoy adapting to different creative scenarios and moving with them." Check out the entire interview on Campbell's web site.
Also, Brushfire Records just released the soundtrack to his film The Present which you can pick up here.
Read More…
Post Comment