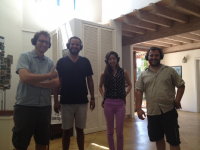 A new dance craze has hit the floors of clubs and parties across the globe. No, it's not another variation of "The Dougie" or some other dance with an obscure name. This dance sensation known as the "silent disco," originated in Europe and can best be described as an inaudible dance party—at least to onlookers without a pair of headphones.
The concept of a silent disco is quite simple; rather than using traditional sound systems to produce amplified sound, music is broadcasted to wireless headphones worn by partygoers.
End result? The only audible noise that can be heard include the sound of shuffling feet and the occasional outburst of off-key singing.
Silent Treatment, an LA-based event production company, came over to Oniracom to give us a taste of the silent disco phenomenon. As we slipped our headphones on, our ears were greeted with the same pounding electro synth beats that transformed the previously calm and quiet room into a high-energy atmosphere. It was hard to imagine that while the rest of the Oniracom staff were quietly working, we were rocking out in the next room over. There's something about the privacy and exclusivity of it all that creates a shared sense of belonging via headphones. It's kind of like being in on a secret that no one else knows about.
Although this concept is not entirely unheard of, Silent Treatment has made some ground-breaking developments with their technology that will take silent discos to a whole new level. What they have in store will be sure to revolutionize the way audiences experience music.
Permalink
Post Comment