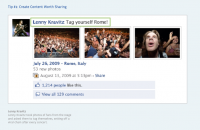 Thanks to Facebook who recently released their "Best Practices" guide for musicians. Facebook attempts to teach musicians how best to connect music fans on their social network.
On page 3 of the PDF, they reference some tips on how to connect, and under point 2 "Create Content Worth Sharing" they show an example of Oniracom's Lenny Kravitz photo-tagging campaign!
Oniracom is honored to be part of this official Best Practices Facebook guide.
Permalink
Post Comment