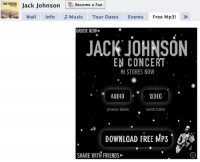 InsideFacebook.com published an article "How Top Musicians Are Utilizing Their Facebook Pages" showing how bands now leverage Facebook more heavily as they turn from artists into brands. With many of Facebook's tools (old and new), artists are able to form lasting relationships with their fans, rather than selling them the occasional album, EP or single. Oniracom shares this philosophy—in fact all of our websites, microsites, widgets and social media destinations facilitate direct to fan marketing, fan-oriented growth tactics and lasting relationship building.
By collecting additional contact information from their fans through a sign-up form, musicians can augment their Facebook campaigns with mass e-mails and mobile promotions. Mozes, a leading service providing mobile engagement tools such as mass promotional text messaging, powers the mobile sign-up of many leading musician pages such as Rihanna and Kings of Leon. Email sign-ups are predominantly handled through an integration of a widget, often developed by an artist's record label. Jack Johnson, in a tab powered by Oniracom, baits users with a free mp3 but then requires an email address to which to send the file.

Tabs which offer downloads, especially of rare b-sides or live recordings, in exchange for contact information are a great choice for musicians because they entice both hardcore and new listeners with something exclusive, and help establish the artist on the fan's hard drive, not just their web browser.
Permalink
Post Comment