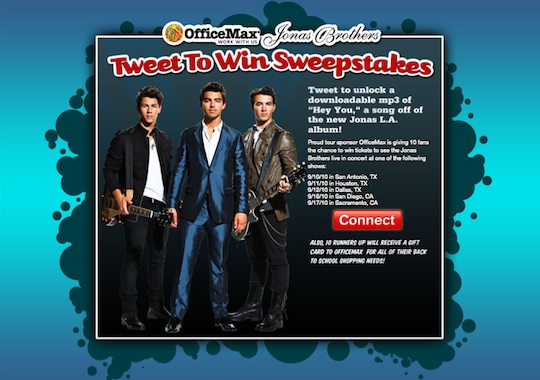 The Jonas Brothers, that enthusiastic and phenomenally successful tween sensation, has joined together with OfficeMax in a sort of powerhouse Twitter promotion to incite fans to tweet in order to receive a free download off their new album and be entered into a free concert ticket promotion.
The sweepstakes reflects the legitimacy of Social Media promotion tools and the inflow of major artists into such mediums. A far cry from a simple "click Like" type promotion found on Facebook, the Jonas Brother Twitter promotion actually has a unique website dedicated solely to the sweepstakes.
It is a cross promotion site, one not only dedicated to the diffusion of Jonas Brother product, but to another promotion associated with OfficeMax. A sort of one-two punch if you will. With the incentive of free music, fans in turn promote an OfficeMax free tour ticket contest. No doubt the OfficeMax sponsorship is in relation to "back to school" season, with the name OfficeMax connected to the Jonas Brothers in hopes to have kids associate the "cool band" with a supplier of much needed binders and notebooks.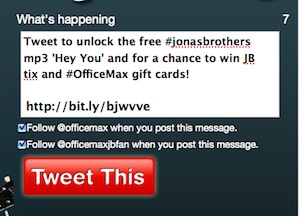 Back to the Tweet promotion! Once a prospective fan hits the "connect" button located on the site, an automatically generated tweet is ready to be broadcasted to all followers (complete with #hashtags). The tweet itself is actually a duplication promotion. In other words, the tweet is simply to proliferate the OfficeMax Sweepstakes, in contrast to some tweet about how awesome the band is. In addition to simply spreading the word, you are automatically set to become a Follower of @OfficeMax and @OfficeMaxJBFan. You can elect to uncheck a box if you don't want to become one. Once the tweet is broadcast, fans automatically gain access to a download link of "Hey You." Winners of the OfficeMax promotion will be contacted via a Twitter Direct Message in upcoming weeks. The fact that email has been completely taken out of the equation is quite interesting.
This Social Media promotion is quite integrated. The promotion is multi pronged with benefit for both user and promoter. There is no quicker way to get fans to help with promotion than by offering a nice carrot incentive. Eventually, the fan has both shown their love of the Jonas Brothers, gotten a nice mp3 and promoted an offshoot Sweepstakes. Simply by tweeting, fans have the chance to win a ticket to see the Jonas Brothers on tour. A far cry from calling a radio station to be the "Hundredth Caller," just a couple clicks allows entrance. One interesting point that should be made about the contest is the music download itself. This is not a track off some upcoming album, in fact the album has apparently been out for a while. It seems likely that most fans that even arrive at this promotion URL are already "JB" fans, highly likely to already own the album. I am not familiar with their work but am pretty aware of the massive audience the band has and am willing to guess many already have purchased or pirated their songs. No doubt though that many fans will happily tweet their love for the band in hopes of winning concert tickets.
Over all this "Jonas Brothers Tweet To Win Sweepstakes"is a very well executed promotion, integrating different players into the mix in order to cross pollenate with as many prospective fans as possible.
Check out the promotion HERE