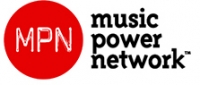 Music Power Network, or MPN is a new online resource available to up and coming musicians and aspiring music business professionals. MPN was started in November 2009 by music industry guru Dave Kusek. Kusek is the Vice President of Berklee College of Music, and founded their online music education program. He also co-authored the best-selling book, "The Future of Music, Manifesto for the Digital Music Revolution" years before the advent of the current digital music business.
Music Power Network came from the demand of many young artists and businessmen looking to take the next step into the music business. Individuals aspiring to break into the music business need to know what steps to take to protect, develop, and distribute their intellectual property, and MPN provides a step-by-step framework to accommodate these needs. MPN is designed as a vital resource for artists looking to understand the music business in a digital age. Membership gets you lifetime access to a growing database of music industry contacts, and volumes of interviews with experienced industry specialists.
MPN also gives you the unique opportunity to take an online course about the steps needed to get into the music business. It also gives you access to business plan templates that will let you know what you need to do to protect and market your band. Further information on MPN can be found at musicpowernetwork.com.
Networking is a powerful tool in the digital age, and MPN seems to be on the leading edge of developing networking resources for musicians. Even in their interview demo video there is much wisdom to glean. For some aspiring musicians and professionals it seems like MPN would be a great first step to achieving their dreams. I suppose MPN and Oniracom have that in common, Solutions for Dreamers. As they say it's all about who you know, so if you're looking into exposing your band through digital media, Music Power Network may be the best solution for you.
MPN Interview Sample Reel